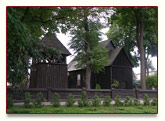 You will be able to obtain basic tourist information in our hotel lobby. In order to encourage You to get to know our exceptional city we have also prepared a few trip routes. All you need to do is to choose one of them in order to get to know the history of Kalisz and of the adjacent area.
Zawodzie archaeological reserve is located within the distance of 300m from Hotel SEVEN. Zawodzie is the oldest district of Kalisz. Every year it is visited by a large number of tourists. The cruise in the boat of Saint Adalbert on the Prosna river, from Wojciech Boguslawski Theatre up to the district of Zawodzie is an important tourist attraction.
Zawodzie monuments include:
Archaeological reserve
Amber path
Archaeological museum
9th – 10th century castle
Foundations of St. Paul's collegiate
Mieszko Stary burial ground fragments
Kalisz also homes ST. Joseph's Sanctuary. The temple is considered to be as the national location of St. Joseph's cult. It is here that the picture of Saint Family can be found, in from t of which the Pope John Paul II prayed in 1997. The sanctuary is located in the centre of the city of Kalisz. Every year it is visited by about 200 000 pilgrims from all over the country.